Our South East (SE) Calgary dentists use digital dental x-ray technology to help us provide optimal dental care for our patients.
---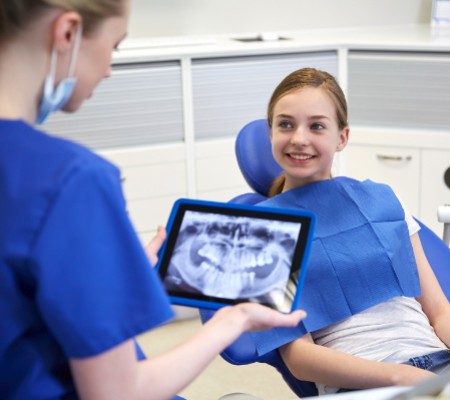 What is Digital Radiography?
We use a process called Digital Radiography, or Digital X-Ray, to take pictures inside your mouth. This method of taking x-rays is done instantly via a computerized x-ray system. We position a tiny digital sensor inside your mouth and take the picture.
This technology also allows us to take what are called "extra-oral bitewings". This allows those with a sensitive gag reflex get x-rays without having anything inside their mouth.
Digital Radiography also lets us see in detail any areas of periodontal disease, un-erupted teeth, abnormal growths. It allows us examine the overall condition of your mouth.
Advantages of Digital X-Rays
While dental x-rays are safe, digital x-rays may reduce radiation exposure even further. Digital radiography hence benefits patients and dentists alike.
Time is another resource digital x-rays allow us to conserve. This technology works quickly.
A direct connection to our computer equipment is all it takes. With these digital pictures, we can instantly lighten, darken, or view your teeth as a 3-dimensional image on the computer screen.
---
Contact our experienced team at Deer Valley Dental Care today and book an appointment.
---