At Deer Valley Dental Care in South east (SE) Calgary, we offer teeth whitening services as a solution to change the colour of your teeth.
---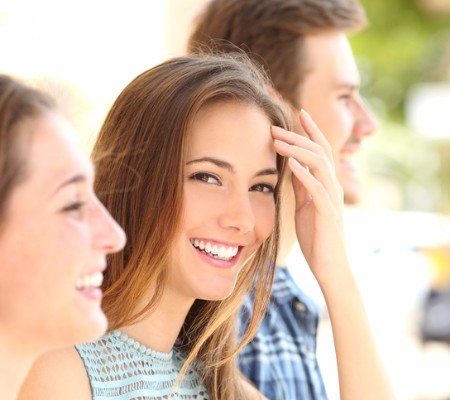 Why Teeth Tend to Change Colour
It can be about the drinks you consume or food you eat. Coffee, tea, juice – anything coloured may potentially leave marks on our teeth. Habits, such as smoking, can also cause the teeth to discolour. Add to that, the colour of your skin and even makeup you're wearing can also affect the appearance of your teeth. Aging is also one reason teeth appear less bright.
What Happens During Teeth Whitening Appointment
The first step is to take a look at your teeth. Then we recommend the best possible solution for your teeth whitening requirements. We want the treatment to be able to match the results you desire.
We will suggest either an in-house treatment or one you can do at home, yourself. We also monitor the condition of your teeth to ensure you're happy with the progress we're making.
We also suggest that you receive a complete teeth cleaning first before doing any whitening. This allows the whitening solution to be more effective and come in contact with more of the surface area on the teeth.
Types of Teeth Whitening Treatment
Our dental office offers the following teeth whitening options to cater to every budget range and specific need.
Whitestrips
If you're still not sure about going for a teeth whitening treatment, you may want to start with Whitestrips first. These Whitestrips come in a stronger solution than over-the-counter versions, making them work faster. Note, however, that misaligned teeth may not be able to benefit as much. Also, whitestrips won't be able to effectively address colouring between teeth. They also won't be able to brighten teeth that have recently received dental work such as crowns.
Dental Bleaching Trays
Dental bleaching trays are one of the most popular whitening options. We take a mould of your teeth to create custom fit trays. You then wear these trays for the recommended amount of time each day filled with a bleaching gel. 
Laser Teeth Whitening
Laser Teeth Whitening. Also known as laser or power whitening, Zoom! is a one-time dental bleaching treatment that makes use of laser and lights. The whitening solution is applied directly on your tooth surfaces. The dental light activates the whitening solution which assists in reducing discolouration from your tooth enamel. We also provide you with a custom bleaching tray as well as a touch-up kit you can use from home.
---
Contact our friendly team at Deer Valley Dental Care today and book a teeth whitening appointment. 
---